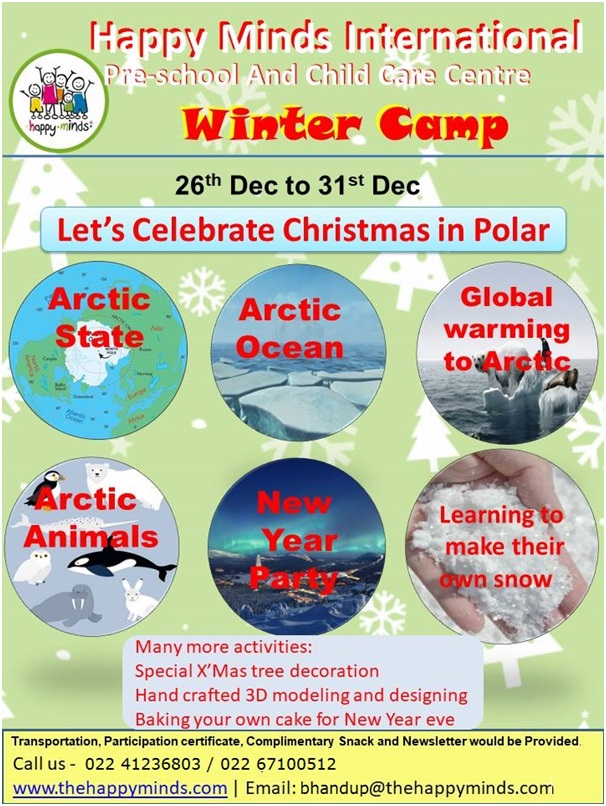 Camp… in the winter? Yes, you read that right! It's time for Winter Camp at Happy Minds again! To make the holidays more interesting, our kids will be taking a tour of the Arctic. They will be introduced to Arctic Circle, Arctic Animals, and the effect of global warming. Meditation, yoga, cookery, and 3D/modeling designing will also add up the fun element to the camp. The four days of the winter camp will impart knowledge about the Arctic along with the New Year party.
Age criteria: 2 Years and above.
Dates: 26th December to 31st December' 2019 (4 days camp)
Time: 11:35 AM – 2:00 PM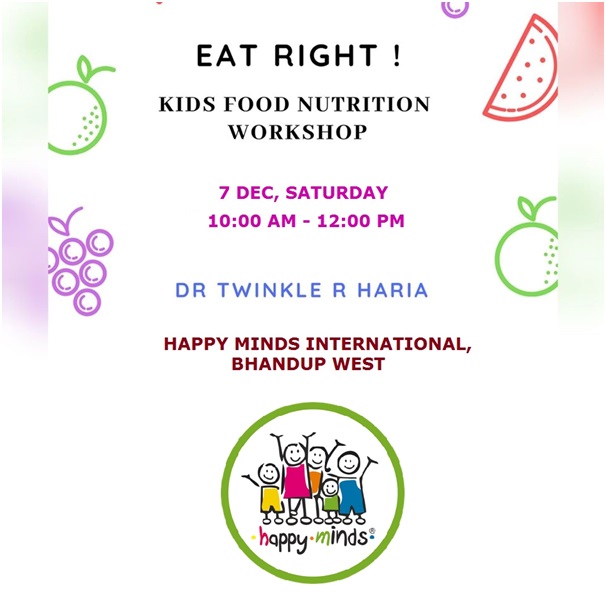 EAT RIGHT – Kids FOOD NUTRITION Workshop@HMI Bhandup
Dr. Twinkle Haria is renowned Nutritionist of the vicinity and seldom available for workshop. Kindly take this opportunity to attend the program. It will break a lot of myths and help parents to understand about 'the right food to the children' where  recipes will be shared too.
Date: 7th Dec 10 AM – 12 PM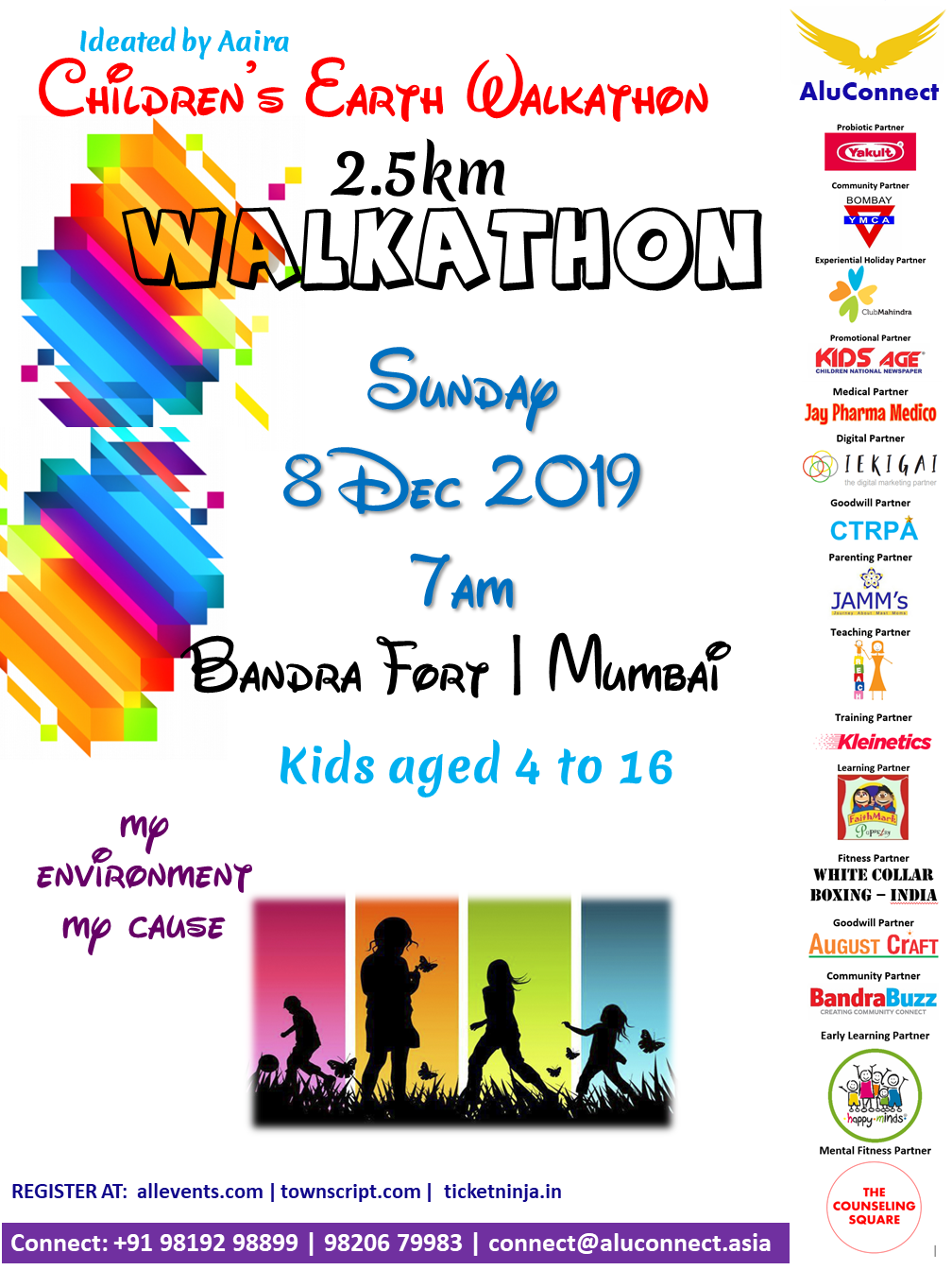 Happy Minds International, the Early Learning Partner of CHILDREN'S EARTH WALKATHON invites all HMI kids above 4 years for walkathon.
Children's Earth Walkathon is the beginning of a new Environment by The Children for The Children of India.
Date: Sunday, Dec 8
Location: Bandra Fort, Bandstand to BBRT Garden & back to Bandra Fort
Time: 6:30 AM – 9 AM
Age: 4 – 16 years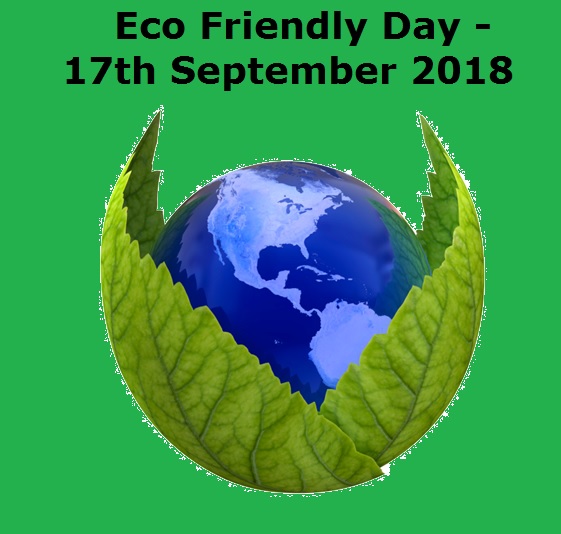 Eco- friendly day Celebration – 17th September 2018
"Plans to protect air and water, wilderness and wildlife are in fact plans to protect man."
HMI is going to celebrate eco-friendly day on 17th September 2018 during centre hours, by hands-on practical way.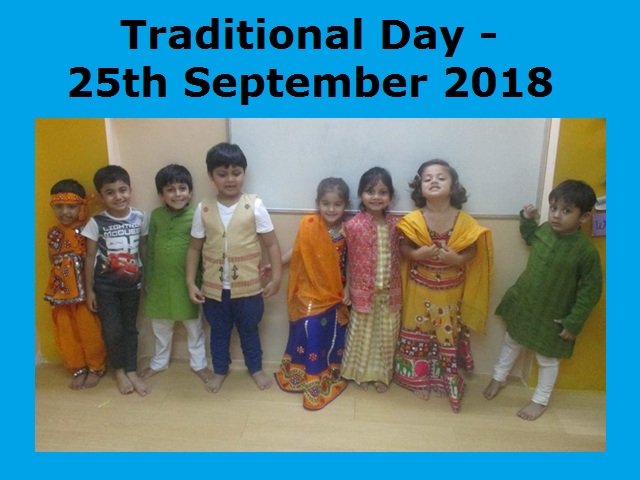 Traditional Day – 25th September 2018
As per our current theme "My Country", children will be learning about different states and their respective food, attire and dance form.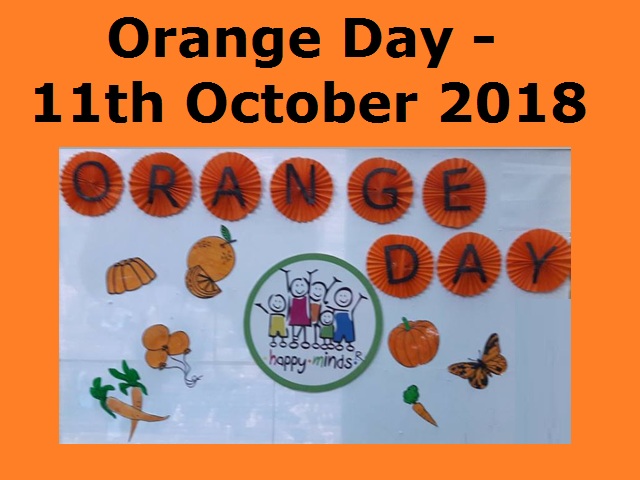 Orange Day – 11th October 2018
Orange day on 11th October 2018 would be celebrated by hands-on practical way.